You are going to think I am a huge dork, but (as those of you who are my Netflix friends probably saw and already made fun of me) I got Elmo's Potty Time
on Netflix.
I haven't had much luck getting my kids to care about using the bathroom. I know, they are only two and a half and most of the parents I talk to about toilet training say that their kids didn't learn until they were three, but still, I am willing to try a lot of things just to get them interested.
The Elmo DVD came in the mail today. (I totally want to make out with Netflix) When The Goon Squad found out I actually got a DVD for them they were very excited. They wanted to watch it right away.
As they were watching it, I noticed that Claudia was alternately watching the Elmo thing and playing in her dollhouse. I went over to see what she was doing and…
I guess this is where I backtrack for a minute and tell you that my Mom has been upset for a while that there was no Grandma for the dollhouse. I found one at Target just before Christmas and so "Santa" gave Claudia a grandmother and a brother set to add to her collection of people. (You can all see exactly where this is going, right?)
You guessed it: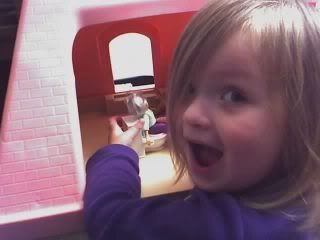 The Grandma was pooping on the potty!
Good for the Grandma. Good for Claudia.
Now I just have to figure out a way to make this skill transfer to Ian and Claudia, because of course during the first viewing (that's right, they wanted to watch it again immediately) both kids pooped in their diapers.
Or, I wish it stayed in their diapers. Ian actually had a Code Brown: Level 2.
Anyway, thank you to whoever told me that I could get the Elmo Potty DVD on Netflix. I can't remember who it was, but feel free to take credit. If this works I owe you.
Comment Via Facebook
comments