We have had a growing pile in the laundry room. It isn't laundry (although that pile keeps growing too) it is stuff to give away.
I feel really guilty about this, but the last two times that the charity people came to our house for a pick up I have failed to have our stuff out early enough. Who know that they would really show up by 7:30 am?
The other day Gabe loaded up our van with the pile of give away boxes and bags. The plan was that I would drop it all off at the Salvation Army when the kids were at school on Tuesday. Of course, my kids were sick on Tuesday… and Wednesday. Yesterday I decided to suck it up and just take the kids with me to the Salvation Army.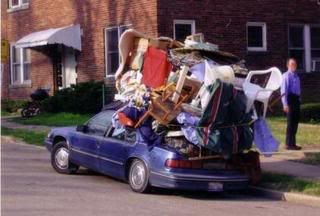 I know that Ian gets funny about giving his things away. In fact he regularly cries in the grocery store because he is convinced that the people in front of us in line are stealing our groceries. I have to explain how it works to him (and explain why he is crying to the other people in line who he is pointing at) every time. I decided I would be better off disclosing my plan ahead of time so he didn't freak out when we got to the Salvation Army.
As I was trying to explain the plan Ian completely went to pieces.
Noooooooo! Don't give my stuff to little kids!
I couldn't do it. He was upset for 20 minutes. I called my mother-in-law to see if she could watch the kids so that I could go drop everything off.
Fortunately, the Lupus Foundation was going to be at my in-laws house in the morning. So last night after Gabe came home I snuck out of the house and dumped a whole vanload of old toys and books in Gabe's parent's foyer.
Why does Ian hate charity? Do you think he is going to be a Republican when he grows up?
Comment Via Facebook
comments