My rice cooker overcooked my rice.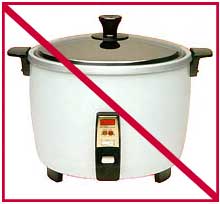 Two nights in a row.
I feel – betrayed.
I mean, isn't that why I bought the stupid rice cooker in the first place? So that I wouldn't end up overcooking my rice?
Should I buy another one? Or will this one just disappoint me too?
Or do I just suck at using my rice cooker?
Comment Via Facebook
comments