Well, we have an answer to the "Am I a hipster parent or a huge dork?" question. Thanks to Mike from Cry it Out and Google. If you do a Google or Blingo search (come on, do a
search. I haven't bothered you guys about this in a long time, and now Gabe's iPod is dying. Can somebody please win me $1000?) and search "parent dork" I come up number one.
Ouch.
Do you need proof that I am the number one dork? I saw this picture on Cheeky's Hideaway this morning and I have been racking my brain to think of a way to use it on my site. Problem solved: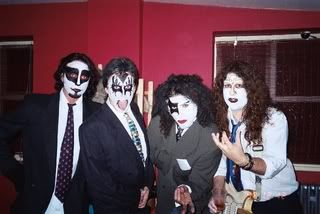 At least I have closure.
And you get to see this lovely picture. Clearly, this is not the real KISS. I don't really know who these guys are (if you are one of them feel free to confess) but the fact that are wearing suits and KISS makeup really made me laugh. So there you go – I really am the number one dorky parent and I'm learning to be at peace with this. I order documentaries on Netflix too, so it must be true.
Yeah, so maybe it wasn't a burning question so much as a regular question. Perhaps you even knew that I was dorky anyway, but I got to post the KISS picture so I am happy.
Comment Via Facebook
comments