We had Beth, Chris and Mia over for dinner on Sunday. They brought me wine and a Junkyard cd so I was immediately won over.
Despite Beth's assertions that we are much cooler than them, I thought they were pretty fly. (See, just by calling them fly it proved that I'm probably not cooler than anybody, except maybe Carlos Mencia).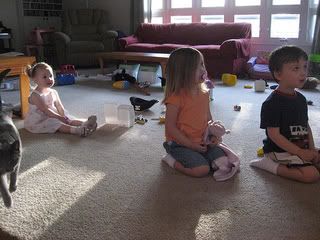 Here is the best part, thanks to the power of the DVD and The Leap Frog Letter Factory
we were actually able to have a grown up conversation while the children were zombies in front of the tv learned phonics.
So while Beth seems to be convinced that Gabe and I spent the whole time just thinking about how uncool they were, what we were really thinking was: The internet would be so jealous!
(For those of you who want to know if Ian is in love with Mia, the truth is I think he has a thing for Beth.)
Comment Via Facebook
comments