Beth pointed out that I have a whole category called "I Love Wine" and so far I have only talked about "Wine Spectator" and "Food and Wine Magazine".
I saw this as an invitation to blather on about wine that I really like. Since I don't really like the cheap stuff, and can't really afford the expensive stuff, you can get almost all of these wines from between $10 and $16 per bottle.
Here are a couple of reds that I buy on a regular basis: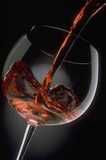 Courtney Benham Zinfandel (2002)
Neiderburg Pinotage
For Pinot Noirs I really like Castle Rock, and it's cheap but it is hard to find. I also like Stone Creek and the Kim Crawford thanks for the tip PapaDog).
For cheaper wines, I like Smoking Loon Cabernet. It's not high end, but it is dependable and it's really good with spaghetti.
I miss the Neyers Grenache, but it was almost $30 per bottle. That is a little out of my price range for an everyday wine so I am almost glad they stopped making it.
What do you guys like?
Nobody say Boones Farm.
Comment Via Facebook
comments