I know it isn't nice to make fun of people that are really, really, really high, but this clip over on The Zero Boss is pretty funny.
Speaking of funny, The Kaiser sent me this headline – "Man Suspected of Killing Prostitute With a Hoe". Hoe with an "e" mind you.
Does your regular swimwear show too much skin? You can always try this instead. Wearing this stuff is way more embarrassing than being fat. (Thanks Mark.)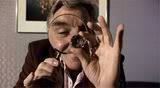 And because these get boring without pictures I am thinking of starting a new thing. I call it: Name that Movie.
So what are you waiting for? Name the movie.
Comment Via Facebook
comments