We're back. 
First I'd like to thank all my guest posters. It is good to know that other people agree that I am not scandalous. And while, yes, I may have passed out in more than one of your cars (if you don't know what I am talking about you'll have to go back and read the comments on Beth's post) I am not really a shocking person.
That being said, the horsehead did make an appearance on my vacation.
 See?
Maybe I'll explain more later. Maybe not. I did have the pleasure of meeting Tink and Hoop (of Pickled Beef Fame). Maybe when she gets back from vacation she will be able to explain why we were throwing up gang signs (poorly).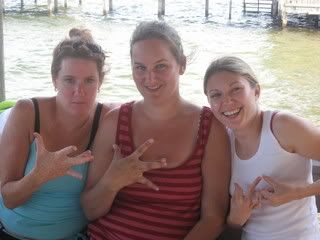 Tammy might also have some sort of explanation for this, but I'm not counting on it.
God knows I don't remember.
Nor can I explain this.
(not Gabe)
Or this:
But I do know that I am glad to be home.
And so is my liver.
Comment Via Facebook
comments