– I saw this and then I bought the book the next day. (Stolen from Laurie at Upside Up)
– Speaking of Laurie… Thank you Laurie, for being so great and helping me install Sk*rt and explaining what it was. I feel enlightened.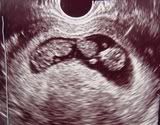 – Oh! For all of you other parents of mutiples out there let's welcome two of the big bloggers (well, they aren't physically large, but they will be soon) to our club. Stefanie from Baby on Bored and Julia are both expecting twins!
Comment Via Facebook
comments