The more I think about this Mike Vick/dogfighting ring thing, the more it bugs me.
Gabe and I always figured that he would have a short career, but we figured it would be because he overdid it on the football field. We thought he would completely blow out his knees or break something Theismann style.
I mean – besides the fact that I didn't actually believe that dogfighting rigns existed (I know – I am naive) I cannot grasp why somebody who already has a lot of money and stardom would feel the need to be involved in something like this.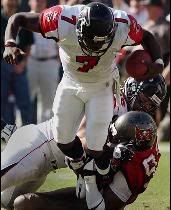 Michael Vick is (was) a superstar. His last contract with the Falcons was $130 million over ten years. Plus he makes (made) a ton of money off of endorsements. Clearly, he didn't need the money.
And dogfighting is just a jackass thing to be involved with.
Part of me almost understands why someone with no money would be involved in inhumane illegal behavior. I mean, maybe if your children needed food and they only way you could provide for them was by working in the cockfighting circuit. But this guy has millions of dollars. He could have 87 children and send them all to Harvard.
It makes my head spin. It would be like finding out that Oprah is a rhino poacher or Harrison Ford was clubbing baby seals just for some extra pocket cash or for fun.
I don't get it. Why, Mike? Why? He probably threw his whole career away for this. Dogfighting. Unbelievable.
Comment Via Facebook
comments