I will tally the hits for my ongoing contest on December 1st. (I don't feel guilty about it since I finally sent out the prize from my last contest).
For those of you that are new to the place, I am having a contest to see who could come up with the term that would generate the most traffic.
So far it is looking like Ali has the thing in the bag. She suggested Homer Simpson vagina tattoo.
You would be surprised how many people are looking for that. Some are even looking for a vagina tattoo of Bart Simpson, but if that exists, I haven't seen it.
No one suggested this term, but since so many people (I can only assume they are NOT Green Bay fans) are looking for a picture of Brett Favre crying, I give you this: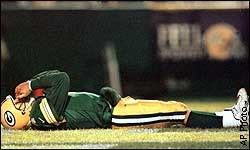 and this: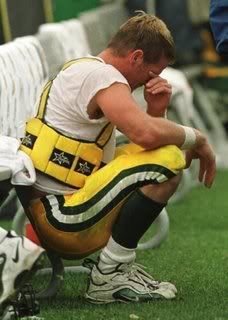 Maybe I'll even have another picture to add after the Dallas game tonight.
Now I feel kind of mean. Sorry Brett.
I will announce the official results early next week. There is still time to enter, but it si going to have to be good to beat Ali. She found the pulse of the internet.
Comment Via Facebook
comments