I have a lot of traditionally masculine interests. I love football. I love beer. I used to be in a garage band. I have a lot of guy friends. I (along with Kemp) started a sports blog.
In fact, as I type this I am watching "Inside the NFL" which I TiVo every week.
Keeping this in mind, (as well as the fact that I am addicted to Bravo reality television) last night we stayed up late watching "Project Runway" (which Gabe says he watches in hope of seeing side boob). Last week the special guest judge was Sarah Jessica Parker who I cannot stand, so when they said there was another celebrity this week I rolled my eyes. Then the designers walked into the room and there was Tiki Barber.
I squealed.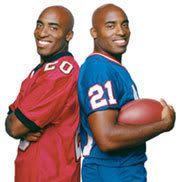 Like a girl.
I was so ashamed.
I couldn't help it. I love the Barbers.*
And all of those designers that cried when they saw Sarah Jessica Parker didn't even know who Tiki Barber was! The only one who recognized him was the one straight guy. I guess that helped me feel a little bit tougher.
* Even though they are identical twins I think Ronde better looking, but that is only because he is wearing a Bucs jersey.
Comment Via Facebook
comments